---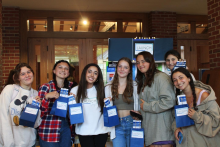 April 18th 2023
At 13 years old, Sahana A. '24 attended her first girls' leadership conference hosted by Harvard University. "It was then that I realized the profound effect of bringing together successful female leaders and role models for teenage girls," she says. "I wanted to bring together my passion for mentorship, education, and social change to tackle the gender disparity that exists for girls and women in the business, politics, and STEM fields." From there, Sahana founded The Launch Project as a registered 501(c)(3) international organization.
Since its establishment in 2019, The Launch Project has grown to 2,500 members and 42 chapters, spanning four continents. Its mission is to "empower, educate, and develop girls to become tomorrow's female leaders, changemakers, and entrepreneurs." Programming specifically focuses on building critical skills and opportunities in the areas of business, politics, and STEM for all girls, regardless of socioeconomic differences. The Madeira chapter, founded last year, has had a phenomenal response from the community, quickly growing to be one of the largest clubs on campus.
Sahana works hard to leverage her Madeira experience and resources to continue to grow her organization. Within our unique Mod schedule, Sahana is able to balance her coursework and running her non-profit, which gives her more time to dedicate to building engagement and designing programming. "My experience at Madeira has been instrumental in the growth and expansion of The Launch Project," remarks Sahana. "We have successfully hosted a series of hybrid events at Madeira in an effort to inspire our school community and young women worldwide." Some notable events include a design challenge, interviews with the CEO of Dormify and Wondercurl, and a political panel featuring prominent women from Capitol Hill, such as the Chief of Staff to Congresswoman Debbie Lesko and an adjunct senior fellow on the Council of Foreign Relations.
Through The Launch Project's programming, Dumebi N. '25 has been able to hone her event planning skills, working behind the scenes to secure guest speakers, and she helped host a political panel. Dumebi has also been actively working on her presenting and public speaking skills and reports that, "The Launch Project has provided me with essential tools, a supportive network, and the confidence to pursue my dreams, challenge the status quo, and make a difference in my community."
Sahana also reports that the organization is preparing for their Female Empowerment Summit, which will be hosted on May 13 at the US Patent and Trademark Office headquarters in Alexandria, VA. A one-day event, the conference-style gathering is "designed to connect, inspire, and empower young women from around the world who aspire to become business leaders, entrepreneurs, and changemakers." This unique event will bring together young women from middle and high school, as well as students from the college-level, to learn and hear from successful female leaders, CEOs and founders of top companies in various industries.
"Through our programs, I hope to inspire young girls to see the limitless possibilities available to them, build critical skills to unleash their potential, level the playing field for future career paths, and build positive networking and mentorship opportunities to empower successful female leaders of tomorrow," shares Sahana.
#MadeiraLeads #MadeiraClubs #MadeiraActivities #MadeAtMadeira
---
---
You may also be interested in...